Welcome to Urban Mushing™ – home of the Southern California Working Snow Dogs --- a group of humans and their canine companions indulging in different fun dog-powered activities for the working dog. Our dogs LOVE to run and pull and we give them a chance to get the exercise they need and deserve through various "mushing" type activities such as dog scootering, carting, bikejoring, canicross, skijoring, weight-pulling, and yes, dogsledding. Most of us are also avid hikers and take our dogs backpacking as well as snowshoeing during the winter.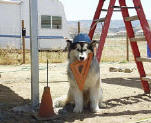 Our site is constantly evolving, so please check back often for updates. We hope to use this as a source of information on different types of urban mushing activities, gear, equipment, and events and to encourage others to exercise their dogs, especially the working breeds.
Interested in learning more about urban mushing? In addition to this website, please join our Yahoo discussion group! Go to http://groups.yahoo.com/group/SoCalWorkingSnowDogs/. Our discussion group gives you local run locations as well as meeting times and the best conversation around with fellow urban mushers! Also visit our new blog for up-to-the-minute information regarding our activities, fun runs and pictures from events!
Meet our amazing urban mushing athletes!!

It doesn't matter where you're from or what breed of dog you have --- if you love your dog and want to learn more about dog-powered sports, then you've come to the right place.
To get a feel for what we're all about, watch this news clip from ABC News which aired on December 8, 2007 covering our 2nd Annual Not-So Great Serum Run! You can also watch this promotional video by Donna Meichtry, one of our more creative group members who is studying video production. She still has hours of editing to do before she completes the project but in the meantime, enjoy this amazing 'teaser.' Are you hooked yet? To see even more, see news articles about our group, view pictures from past events and view and listen to our slideshow from our Dogs Across America event.

Also, check out these videos from our 2008 July Fourth Weekend run!
Hooked yet? Click 2009 Laguna Niguel, Laguna Niguel, Fairview Park 1 and Fairview Park 2 to see additional video clips! For even more pictures, visit our photo gallery!

Add an event to the website!
___________________________________________________________________________________________________________________________________
Dirt Dog Derby 2013




Holcomb Valley, California April 20 - 21, 2013




Race Results, Recap and Photos coming soon!!!

Urban Mushing™ in the News!





American Dog Derby in Ashton, Idaho February 18 - 19, 2011



Training for the Race:

Orange County Register article: http://www.ocregister.com/news/dogs-288620-stegmaier-huskies.html

Slideshow: http://www.ocregister.com/articles/dogs-288620-stegmaier-huskies.html?pic=1

Daily Pilot article: http://www.dailypilot.com/news/tn-dpt-0211-reyes-20110210,0,5272522.story

Race Recap:

Orange County Register article: http://www.ocregister.com/news/dogs-289444-reyes-race.html

Slideshow: http://www.ocregister.com/news/dogs-289444-reyes-race.html#article-photos

Read Rancy's Reflections from the Race

A Weekend with 9-time Iditarod Veteran Karen Ramstead
in Southern California!
July 10 & 11, 2010

Nine-time Iditarod veteran (and quite the engaging speaker) Karen Ramstead is flying down to Southern California from her North Wapiti Siberian Husky Kennels in Alberta, Canada!

We will be hosting 2 different events in order to help Karen raise funds for her kennel:

July 10 (Saturday) - Presentation and Forum
Costa Mesa Community Center 1 PM - 4 PM
Karen will give a live audio and visual slideshow presentation covering her experiences in training and racing in the Iditarod with her "Pretty Sled Dogs". Donation is $30 per attendee - drinks and snacks will be provided. No dogs allowed.


July 11 (Sunday) Barbecue/Potluck picnic and Q&A workshop
Laguna Niguel Regional Park 11 AM - 4 PM
Hamburgers and hot dogs will be provided but please bring a potluck item (send an email to Cindy Stepp btrflygrl68@msn.com). Donation amount is $20 per person, and $5 for children 12-and-under. Aside from enjoying the food, picnic, and mingling with Karen Ramstead as well as your fellow mushers, we will also have a Question & Answer Workshop (note: this is NOT a hands-on mushing clinic so dogs are optional). It's a wonderful opportunity to pick Karen's brain and learn a little bit more about her training techniques and viewpoints. IT WOULD HELP A LOT if you could write down your questions on the back of the registration form so that Karen can answer them as best as she can.


T-shirts will also be sold at the event (you can order them ahead of time - see registration form) as well as cookbooks, posters, etc., that Karen will be bringing.

Download the Registration Form and mail it back by July 3, 2010. Additional details are in the registration form. If you have any questions, e-mail info@urbanmushing.com

See you there! Specially those who want to learn more about the Iditarod. If you can't live it, at least hear about it....from the great Karen Ramstead!


2010 Urban Mushing™ Clinic!
March 27 & March 28
Fairview Park, Costa Mesa, CA

Carmen Rasmussen from Alpine Outfitters, who has been facilitating our clinics for the past 3 years, will be able to fly down here and spend time with us on March 27 and March 28. This clinic will have a different format than previous ones. It will be more informal and will be more hands-on.

The clinic will be split up into 2 different sessions which will cater to different levels: Saturday will be for newbies (those who have NO or little experience with dog scootering/bikejoring) while Sunday's session will be for those who are at the intermediate level. The newbie session will cover the basics, including what equipment and gear to use, proper harness fit, how to teach your dog the basic commands (GEE, HAW, LINE OUT, EASY, WHOA), ground work training, trail etiquette, and attitude. The intermediate session will cover a little bit of what is in the newbie session but will focus more on advanced commands such as GEE OVER, HAW OVER, ON BY passing, teaching your dog to avoid distractions, speeding up on command, etc.

Both sessions will be held from 8:30 AM to 12:30 PM and will be limited to probably 20 participants per session, as this will be a more "hands-on" type of clinic. Carmen will be the main facilitator but others will be on hand to help her out. Registration fee will be $20 per session (plus $5 per family member).

Click here to download the registration form.

Sign up today!

For more information, send us an e-mail info@urbanmushing.com




Urban Mushing™ in the News!

Time Magazine Video
released March 5, 2010

The 2009 (not so) Great Serum Run and Barbecue!
Saturday January 9, 2010
Fairview Park, Costa Mesa, California

Click Here for Race Results!
1-Dog / 1-Mile Junior Scooter Race
1-Dog / 1-Mile Scooter Race
2-Dog / 2-Mile Scooter Race
3-Dog / 3-Mile Scooter Race
1-Dog / 2-Mile Bikejoring Race
1-Dog / 3-Km Canicross Race

Photos from the event!
Gallery One (thank you Kevin)
Gallery Two (thank you Joyce)
Gallery Three (thank you Wing)


Born to Run!!!

Urban Mushing featured in the May issue of Orange Coast Magazine




See Joan's "Amazing they Are" montage of our incredible Urbanmushing™ Athletes and friends!